Quick links
DOIS, Data Publication and Sharing
---
---
Book a Consultation
We provide free consultative and instructional assistance with data throughout the research lifecycle to UM-affiliated patrons.
GIS:
Email aparrish@miami.edu

Mission
The Data Services department of the University of Miami Libraries promotes data literacy on all campuses through education, consultation, and curation. We provide equitable expert advice on the components of the research process (discover, planning, collection, preparation, analysis, publication, and long-term management).
Research Data Lifecycle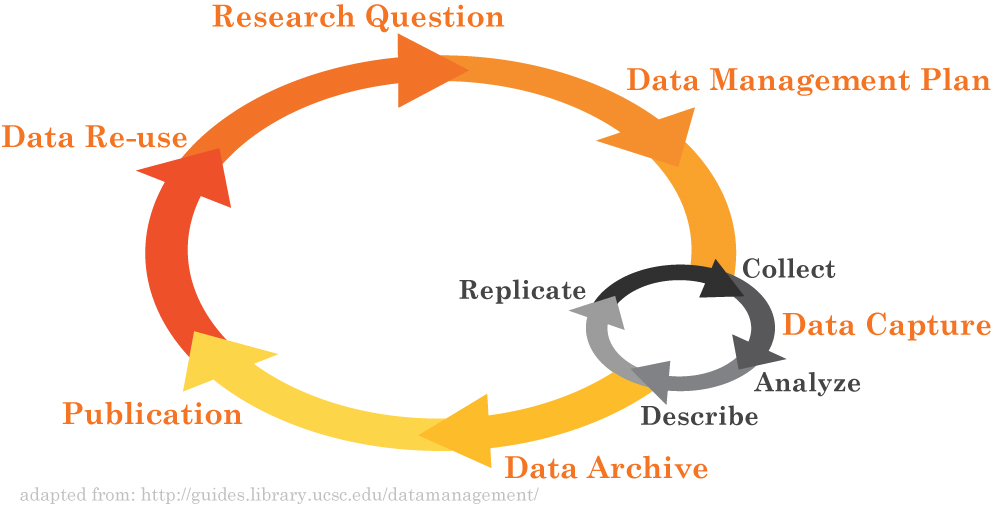 ---
Multiple Workshops Available | Summer 2020
This series of seminars and workshops is designed for students who will be undertaking research in any discipline.
Scientific Computing and Python Programming
Scientific Computing and R Programming
---
Data Services at the University of Miami Libraries
Locations: Our services are offered on all three campuses, partnered in collaboration with the Richter Library Learning Commons, the Calder Medical Library, and the RSMAS Library.
20 Hours a week of office hours in the Digital Scholars' Lab.
Tuesday afternoons at the Calder Medical Library.
Thursday afternoons at the RSMAS Library.
Consultations by appointment with relevant staff member.