Special Collections/Rare Book Room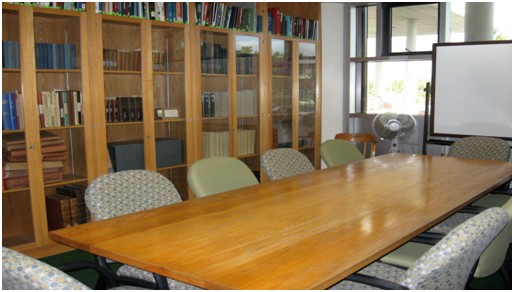 Seating: 8 – 10 people
Includes: One long conference table, a whiteboard (that can double as a projection screen), wireless network, and telephone conference call capabilities.
Map & Chart Room
Seating: 30 maximum (additional room for standing)
Includes: Conference tables and chairs that can be rearranged, a pull-down projection screen (projectors available from RCF or GSO), whiteboard, podium, and wireless network capability. Telephone conference calling is not available, and there are limited power outlets.
Media Room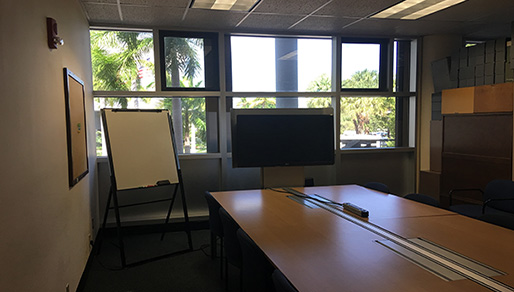 Seating: 6-10 people
Includes: One media table with four connections to broadcast to the attached monitor, a whiteboard easel, and wireless network capabilities. Telephone conference calling is not available.
Room Use Guidelines
The telephones in the Library are for Library business only. Please provide contact phone numbers (other than the Library) to your participants. There is a public phone in the hallway outside the Library. Computers in the Library are for research and e-mail for RSMAS faculty, staff and students. These are not available to attendees. No cell phone conversations are allowed in the Library. Arrangements must be made in advance if you need to set up before 8:30am. Event coordinators or representatives are responsible for their guests and must be present to ensure that Library security and regulations are maintained.
After the event, the area must be restored to its original condition: (1) furniture must be replaced to its proper position; (2) all food set-ups must be removed; (3) trash must be disposed of.