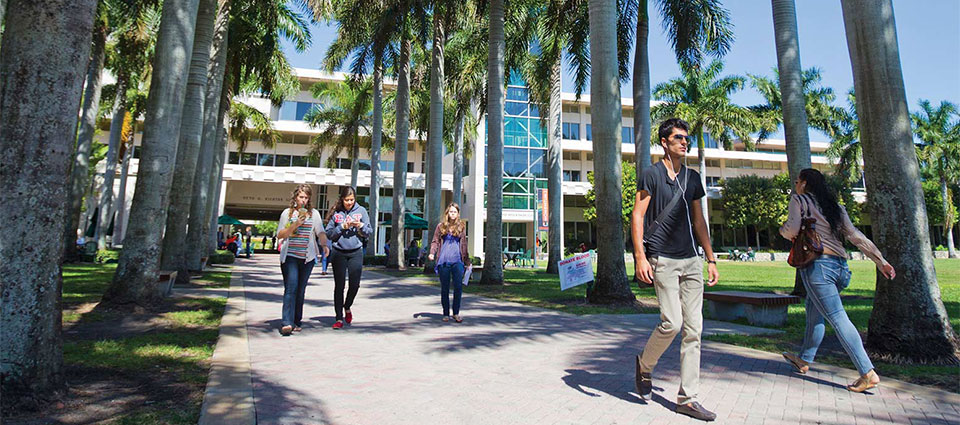 Entering
A ramp and automatic door provide easy access into the building for those in wheelchairs or with limited mobility, and there is an automated gate for easy access into the library.
Moving around
There are elevators to all public levels of the library with Braille floor designations. Official service animals are welcome.  Please see our Service Animals Policy for complete details.
ADA compliant equipment
There are ADA compliant computer stations, study desks, and photocopy machines. Drinking fountains and bathroom facilities are also ADA compliant.
Retrieving and copying material
Library personnel at the 1st Floor Circulation Desk can retrieve materials and make copies at the standard photocopy price. Usually this is done within two hours.
It may take longer on holidays and weekends but will not exceed 24 hours.
Call ahead to have material retrieved or copies made, or e-mail a request to richter.circulation@miami.edu, or fax it to 305-284-4027.
Proxy Services
University of Miami students with disabilities are eligible to designate individuals to act as a proxy representative when checking out materials from the Otto G. Richter Library, Paul Buisson Reference Library, and Marta and Austin Weeks Music Library. Proxy representatives can check out both library-owned and Interlibrary loan materials on behalf of the principal borrower with the same loan periods and privileges that the principal borrower would receive.
Conditions for Use
Principal borrowers may have up to three proxy representatives.
To designate a proxy representatives, principal borrowers must already be registered borrowers in the libraries listed above.
Principal borrowers are solely responsible for all materials checked out on a proxy representative's account and any fines, fees, or replacement charges accrued.
Proxy privileges begin and end August 31st of each year.
A proxy record will be created when either the principal borrower or the designated proxy representative presents the signed application form and an ID at the Richter Library 1st floor Circulation Desk.
Proxy representatives act solely for the principal borrower. No additional services are provided for the proxy representative's personal use.