Computers (Hardware & Software)
---
Richter Library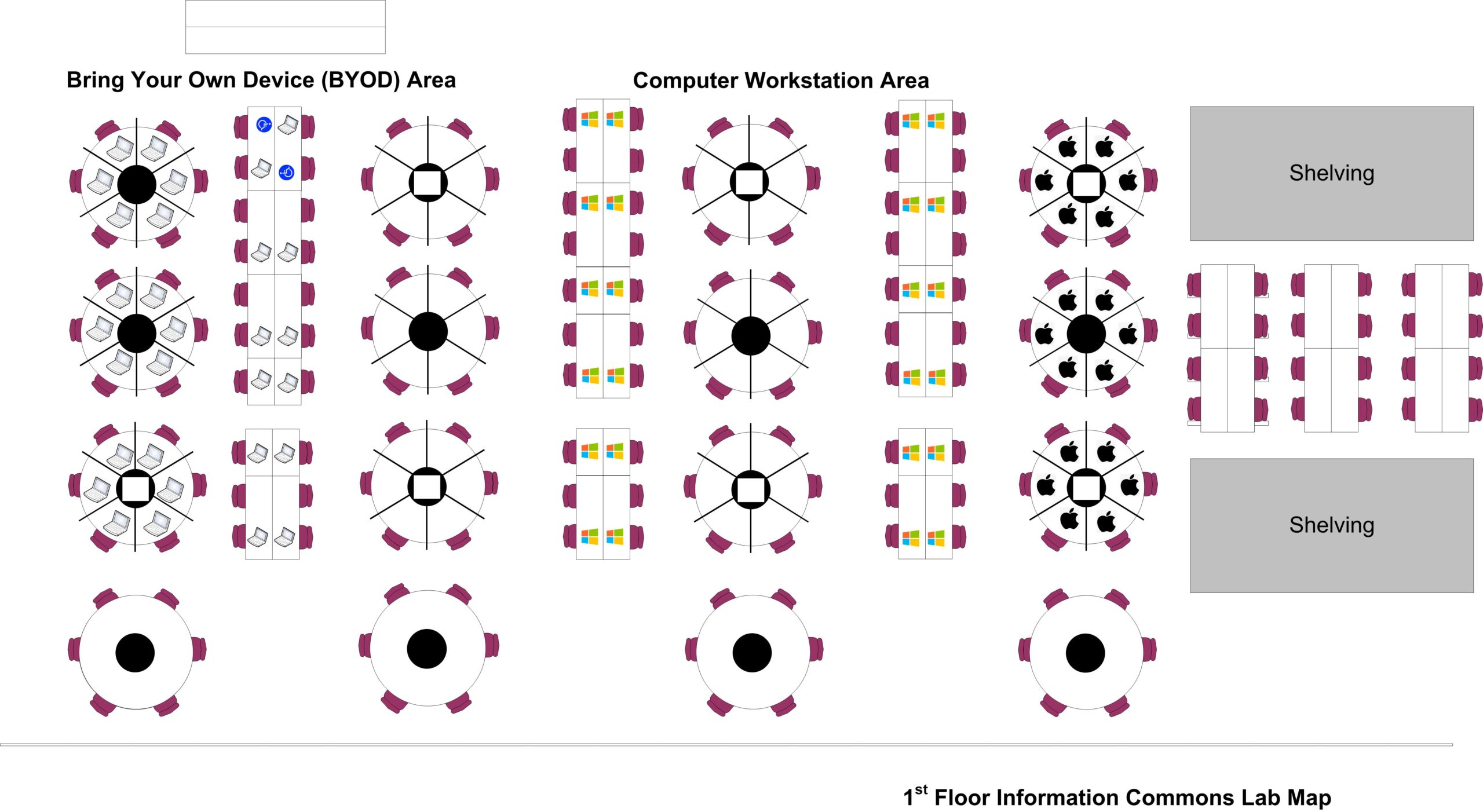 Lending Laptops
: Dell laptops with MS Office Suite and a limited amount of Mac laptops- are available at the Access Services Desk.
BYOD Stations: Bring Your Own Device stations are available on Richter 1st Floor. These stations are equipped with single/dual monitors, docking stations (HDMI/USB-C cables to connect the laptop), and power outlets.
Windows Stations: Dual-Monitor Windows desktops are located on Richter 1st Floor.
Mac Stations: iMacs stations are located on Richter 1st Floor, near the Creative Studi (See map above)
Printer Stations
: UPrint Color & B/W print/copy/scan stations, located on the 1st and 2nd floors.
Individual Study Rooms: All study rooms are equipped with large screen TVs and wireless video transmitters to connect your own laptops
Microform Stations: 2 stations dedicated to viewing/printing microfilm on the 2nd Floor
Digital Scholars' Lab: 24 high-powered Windows stations are located on the Richter 3rd Floor (Room 344). These computers are equipped with statistical & GIS software, and Engineering software.
---
Architecture Research Center (ARC)
6 PCs ; 1 large format scanner ; 2 UPrint Color print/copy/scan stations
Business Library
18 PCs ; 1 UPrint Color print/copy/scan station
Rosenstiel School Library
2 PCs ; 6 iMacs ; 1 UPrint Color print/copy/scan station
Weeks Music Library
Weeks Music Library Public Computer Policies
Creative Studio: Windows and Mac computer stations are located within the Creative Studio on the 1st floor. These computers are equipped with audio editing software. Color print/copy/scan station also available on 1st Floor
1st Fl Group Study Rooms: 1 room with CD, LP, and cassette equipment; LCD screen; Rm. 120 is equipped with a Mac Mini which is connected to the receiver system to play CD / DVD / VHS; 1 room is currently equipped with a table, chairs, and whiteboard

---
Software
The University Computer Lab image is updated based on software authorized by UMIT. The Libraries do not have the ability to add new software packages at will to lending laptops. Please use the Library Comments page to suggest new software for the computers.
For a list of specialized software available to students, please see: https://studentsupport.it.miami.edu/labs/newsoftware.html
Creative Studio Services computers are supplied with expert video, audio, and graphic software and support for digital media projects, web development, image creation /editing, and audio/video editing. Check for software available on Creative Studio computers, as well as the Richter Mac Alcove.