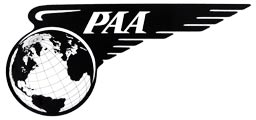 Since its first international flight in 1927, Pan Am positioned itself as a world leader in American commercial aviation. Formed in 1959, World Wings International, Inc. (WWI) is an association of former Pan Am flight attendants that now dedicates itself to charitable activities. This collection includes the administrative records of the organization as well as scrapbooks, photographs, membership and annual meetings files, correspondence, and financial records.
The World Wings International, Inc. Research Grant is open to advanced graduate students, independent scholars, and faculty who would like to use the organizational records for research. Priority will be given to research proposals that will result in publication in any media. Up to $2,000 will be awarded annually to support scholarly research using the World Wings International, Inc. Records held by the University of Miami Libraries' Special Collections.
Prospective researchers are encouraged to explore new areas of scholarship and inquiry within the World Wings International, Inc. Collection at the University of Miami. The collection is very rich and can support research in the areas of history, geography, business, sociology, gender studies, and more. We also encourage creative writers to use these materials to inspire short stories, poetry, novels, and even art work. The research should further the image of World Wings International, Inc., and encourage further study into the role former Pan Am flight attendants had in the history of aviation, philanthropy, feminism, and women's business history.
Grant awardees will be required to give a presentation to faculty, students, staff, and interested community members either during the time of their stay or at a convenient later date.
Application Procedures
Applicants must submit a proposal of no more than two pages describing their research project and include a curriculum vitae or résumé. Electronic submission is preferred. A WWI Board Member will sit on the selection committee.
Application Deadline: Wednesday April 8, 2020
Please send inquiries and applications to:
World Wings International, Inc. Research Grant
c/o Jay Sylvestre, Special Collections Librarian
University of Miami Libraries
PO Box 248214
Coral Gables, FL 33124-0320
j.sylvestre@miami.edu
(note: applications will be reviewed after deadline, and recipient will be announced one month after deadline. The successful applicant will have one year to fulfill their grant requirement. Any applicant failing to make arrangements to come to the University of Miami within the year allotted will forfeit their award).