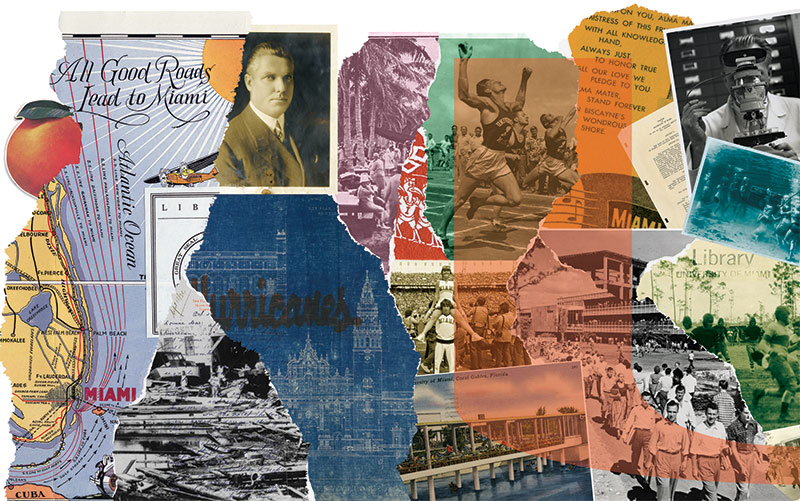 About Library Exhibitions
The University of Miami Libraries (UML) supports a robust exhibitions program, providing access to our rich and diverse collections while highlighting unique and rare holdings. The program enhances scholarly engagement and makes our collections accessible to the University community and beyond.
Envisioning exhibition spaces as active, transformative teaching and learning tools, our Libraries partner with faculty, students, and staff, as well as visiting curators, to design and install exhibitions that connect multidisciplinary interests and scholarship with a broad array of historical and topical themes. The combined efforts and expertise of UML's curatorial teams and supporting departments merge into expressive and relevant displays in our various gallery spaces.
A platform to highlight our special and unique collections and their various mediums—historical and contemporary documents, photographs, books, art, prints, maps, and more—our exhibitions are complemented by related public programming, such as lectures, special tours, film screenings, performances, and symposia, to highlight collections and particular fields of inquiry. Special guests include creators (artists, writers, directors, etc.), collectors, and scholars who make use of our collections for research and artistic purposes.
Curatorial Teams and Supporting Departments
UML's curatorial teams and supporting departments develop and guide the concepts, narratives, programs, and design and installation processes related to library exhibitions.
Access Services provides general information about and access to exhibition spaces for the University community and general public.
The Community Relations and Events department coordinates programming and media outreach efforts.
Creative develops the visual identity, print and digital assets, and provides editorial services for Library exhibitions. The team also manages exhibition installation, de-installation, and overall space design.
The Creative Studio provides equipment resources, large format printing, and specialty software and hardware support.
The Digital Production department manages the digitization of exhibition materials for virtual access, print reproductions, and display purposes.
Facilities oversees the assessment, coordination, and maintenance of library exhibition spaces.
Preservation Strategies is responsible for environmental assessment and control of exhibition areas as it relates to the preservation and conservation needs of the materials on display. The department also manages the preparation and handling of materials during installation and de-installation.
The Systems department provides equipment and technology support for digital components in physical exhibition spaces.
Web & Application Development designs, creates, and maintains the exhibitions' online presence.