As reflected in its
Strategic Plan
, the University of Miami Libraries are committed to engaging with the community by providing access to collections and resources, offering reference and other services, and creating educational programming and events. Members of the public, including individuals and groups, are welcome to explore the following library programs and services available to the community.
Online collections
Scholarship@Miami is the institutional repository of the scholarly output of UM faculty, students and staff. It includes articles, theses and dissertations, data sets, conference papers, and more.
Digital Collections provides access to unique primary source material from the Cuban Heritage Collection, Special Collections, University Archives and non-library partners, including photographic images, maps, correspondence, manuscripts, periodicals, prints, posters, audio, video, oral histories, and more.
Library catalog
uSearch is the primary search engine for library materials at the three UM campuses. To obtain material found in uSearch, note down the author, title, call number, etc., and contact the interlibrary loan department at your local public library (or university/college library if you have borrowing privileges there) and place the request.
uSearch Help guides the user through the most efficient use of this resource.
Distinctive Collections
The Libraries house rare and unique primary sources, available for research and teaching.
Federal Depository Collections
The Libraries have been  a selective depository library for the U.S. Government since 1939.
Research Assistance
The Libraries are ready to answer your research questions and provide training in using uSearch and our online collections.
Ask a Librarian is an online service providing research help via chat and email.
Ava Brillat (abrillat@miami.edu) will match you or your group with a librarian to meet your research needs.
Community and Civic Engagement Research Guide provides access to finding aids, oral histories, digitized materials, websites, and recordings of past events and exhibitions that document community and civic engagement.
Visiting Scholars
Individual researchers who are sponsored by a University of Miami academic department may obtain the following:
Library borrowing privileges when the sponsorship is longer than a semester.
Cane card access to the Faculty Reading Room
The ability to apply for access to online licensed resources
For more information, please see the Access Services desk at Richter Library or contact Jose Rodriguez, Head of Access of Services, at jfr133@miami.edu
Library News and Events
Keep up on our library news and events! Our virtual events are open to the community.
Friends and Amigos
Consider becoming a member of the Friends of the Library or Amigos of the Cuban Heritage Collection. Certain levels of membership provide print collection borrowing privileges.
For further questions please reach out to Vanessa Carreño Valle, Community Relations and Events Manager at the Libraries, at vanessacarreno@miami.edu.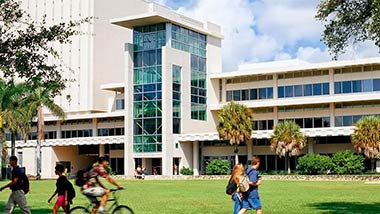 Planning a Visit?