A Brief History of University of Miami Libraries
---
The University of Miami was established in 1925, and the University library began with a foundational gift from the library of Mrs. William Jennings Bryan in 1926. Since then the University of Miami Libraries (UML) have grown rapidly to become one of the top 50 research libraries in North America with holdings in six libraries across three UM campuses that will surpass the 4 million mark in 2019. The following timeline tracks notable 'moments' in the history of UML and is based on information from the University Archives and two seminal institutional histories by Professors Charlton Tebeau and William Butler:
-Charleton W. Tebeau. The University of Miami : a golden anniversary history, 1926-1976. Coral Gables, Florida: University of Miami Press, 1976.
-William R. Butler. Embracing the World: The University of Miami from Cardboard College to International and Global Acclaim. Boston: Buddenbooks, 2008.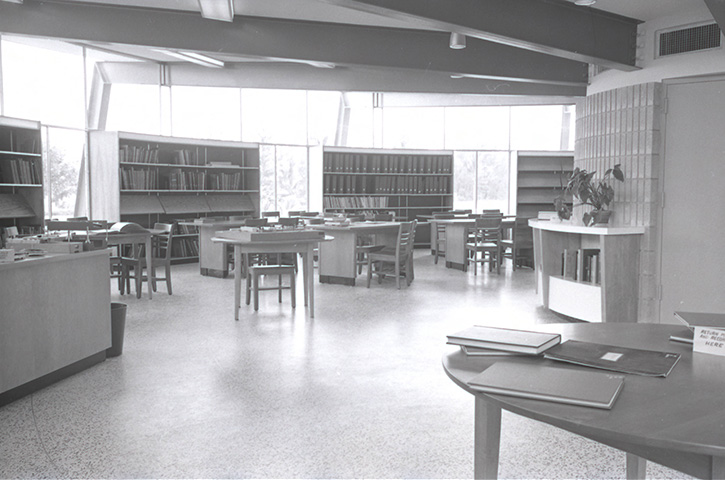 | | | |
| --- | --- | --- |
| 1926 | 1st volume – a gift of Mrs. William Jennings Bryan provides basis for first library collection  |   |
| 1932 | Mrs. Dorothy B. Miller appointed first librarian | Library distributed across various North Campus locations |
| 1947 | Mr. William G. Harkins appointed librarian | |
| 1949 | Library moves from North Campus to Coral Gables campus – Merrick Building | |
| 1949 | Marine Laboratory Library housed at 439 Anastasia Coral Gables | "the largest marine library in the south".  It was second then only to Woods Hole Library in the north. |
| 1952 | Dr. Archie L. McNeal appointed Library Director | Russian Collection est. 1957 |
| 1957 | Albert Pick Music Library opens | Mrs. Elsie Fardig appointed head librarian |
| 1959 | Marine Science Institute Library moves to Virginia Key | |
| 1962 | Otto G. Richter Library dedicated June 10 | 1m volume capacity / 2000 seats for student study |
|   | Special Collections established |   |
| 1971 | 1 millionth volume |   |
| 1976 | University of Miami Libraries admitted to membership in the Association of Research Libraries | |
| | [unbuilt] Richter Library Expansion/new Special Collections  made focus of fundraising 1976-1981 $3.5m Century Campaign' | Campaign literature highlights 'Cuban Culture Collection' |
| 1978 | Helen Carmichael "Mike" Purdy appointed head of Archives and Special Collections | |
| 1979 | Mr. Frank Rogers appointed Director of Libraries | Pan Am World Airways Inc collection acquired 1982 |
| 1981 | [unbuilt] Decision not to proceed with $3.5m Richter Library Expansion | |
| | Planning for South Campus Library Facility begins | |
| 1987 | School of Architecture Reading Room opens | Houses reference works, reserves, maps and slide collection |
| 1995 | 2 millionth volume |   |
| 1997 | Mr. Don Bosseau appointed Director of Libraries | "Library South" storage facility opens on the South Campus |
| 1998 | Cuban Heritage Collection established in Richter Library | Esperanza Bravo de Varona appointed CHC director |
| 1999 | Library Center Movement – Faculty Senate Initiative | Concerns over UM investment in Library facility and collections |
| | Judi Prokop Newman Information Resource Center opens | First North American "virtual business library" |
| 2000 | Renovated Richter Library opens | |
| | Library collection budget enhanced | |
| 2003 | Mr. William Walker appointed Dean of Libraries and University Librarian | |
| | Cuban Heritage Collection opens in the Roberto C. Goizueta Pavilion – second floor of Richter Library | |
| 2004 | Planning process and architectural designs for Richter Library Expansion/new Special Collections. | |
| 2005 | Austin and Marta Weeks Music Library opens | The Pick Library building is being remodeled as a studio. |
| | [unbuilt] Richter Library Expansion/new Special Collections.  Decision not to proceed. | Fundraising 2005-2008 $33m target as part of first 'Millennium Campaign' |
| | Hurricanes.  08-26-05 – SCLF facility hit by Hurricane Katrina – significant water/mold damage; further mold damage occurs 10-24-05 from Hurricane Wilma.  Collections sent to Belfor [TX facility] for remediation. | Planning for a Miami Lakes storage facility begins. |
| 2007 | 3 millionth volume | Celebrated in October. |
| | South Campus Library Facility collection moved to Miami Lakes storage facility | |
| | University Archives established | |
| 2008 | MOU between Richter and RSMAS aligns the RSMAS Library with the UM Libraries (RSMAS retains budget) | |
| 2011 | UM signs agreement with UF to create Collaborative Academic Libraries Collection (CALC) – later renamed Florida Academic Repository (FLARE) | Richter begins transferring general collections (journals) to Gainesville |
| 2012 | Richter Library celebrates its 50th year Anniversary |   |
| | Electronic Book acquisition policy implemented | |
| | UM Libraries join HathiTrust digital books initiative | |
| | UM Libraries join Academic Preservation Trust | |
| 2013 | Dr. Charles Eckman appointed Dean of Libraries and University Librarian | |
| 2015 | Austin and Marta Weeks Music Library celebrates its ten year anniversary | |
| | Study for a UM regional library storage facility begins | |
| | Planning begins for a Learning Commons (Richter Library 1st Floor) and a Special Collections and University Archives Center (Richter Library 1st floor, mezzanine and 8th floors) | |
| 2016 | Libraries electronic book holdings reach 900,000 | |
| 2017 | MOU between Richter and Miller School of Medicine aligns the Medical Library with the UML (MSOM retains budget authority) | |
| | Gift announced: Kislak Collection of the Early Americas, Exploration and Navigation – largest in UML history | |
| | Richter begins transferring books to FLARE | |
| 2018 | Learning Commons opens in Richter Library | |
|   | Kislak Center opens as new home of Special Collections and University Archives in the Richter Library | |
| 2019 | 4 millionth volume | Spring |