Biomedical Communications
---
Biomedical Communications
---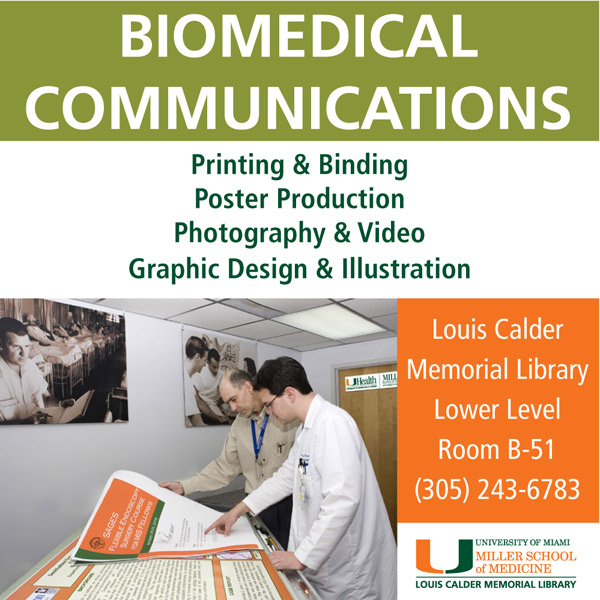 Biomedical Communications (Calder Library Lower Level)
Monday – Friday | 8:30 a.m – 5:00 p.m.
1601 NW 10th Avenue, Room B-51
Miami, FL 33136
FAX: 305-243-4869
Mailing Address:
P.O. Box 016960 (R-4)
Miami, FL 33101
About Us
Our Mission is to provide the University of Miami and Jackson Memorial Hospital with professional digital and creative services that comply with University design standards and utilize state-of-the-art technology.
Biomedical Communications is a division of the Department of Health Informatics located on the lower level of the Calder Library building. The Division was created to serve as the media and visual communication resource for the Miller School of Medicine faculty, staff and students.
Our expert staff can assist you in transforming your ideas into visual, audio and print media for education, research, administration, and patient care purposes using a wide variety of state-of-the-art tools and technologies.
Most services are delivered within three working days. Faster turnaround is available on all services at additional cost. We accept Interdepartmental Requisitions, checks, cash, or credit cards. We invite you to visit us or to contact us at 305-243-6783 or biomed@med.miami.edu.
Free Tutorials
Biomedical Communications offers free tutorials designed to help UM faculty, staff and students create posters for presentations and conferences using Microsoft PowerPoint. The tutorials cover a variety of PowerPoint tools, including understanding menus, basics of page setup, choosing font types and sizes, importing objects and other steps needed to create impressive poster exhibits. The free sessions are for individual assistance and are held on a one-to-one basis.
For more information or to make an appointment, please contact us at 305-243-6783 or biomed@med.miami.edu.
Who We Are