The Cintas Foundation: An Archival Perspective
---
The Cintas Foundation: An Archival Perspective
---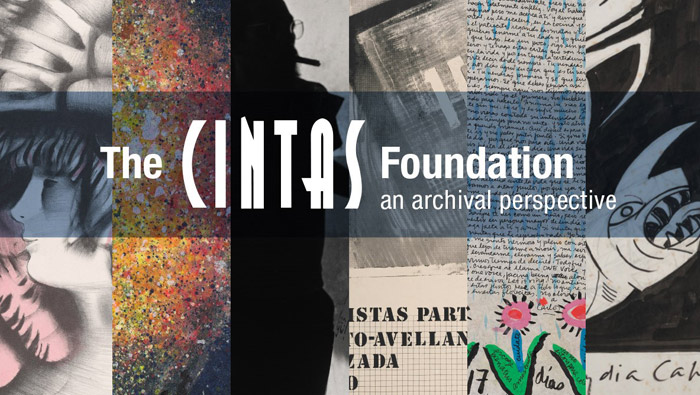 Fall 2023 – Spring 2024
Roberto C. Goizueta Pavilion, Otto G. Richter Library, Floor 2
"The CINTAS Foundation: An Archival Perspective" celebrates the important contribution to Cuban and Cuban diasporic cultural production by the CINTAS Foundation, whose records were generously donated to the Cuban Heritage Collection at the University of Miami Libraries in 2019.
Established in 1957 with funds from the estate of the late Oscar B. Cintas (1887–1957), Cuban ambassador to the United States and a prominent industrialist and patron of the arts, the CINTAS Foundation's mission has been to support the development and expression of cultural producers of Cuban descent and to make their work accessible to the wider public. Since 1963, through the creation of a fellowship program, the CINTAS Foundation has awarded yearly grants to Cuban artists working in the fields of the visual arts, creative writing, music, and architecture and design.
On display are materials representing the work of these CINTAS Fellows, including artists' books, original manuscripts, administrative records, video, photography, drawings, and ephemera, culled mainly from the CINTAS Foundation Inc. records and the vast holdings of other archival and printed materials housed at the Cuban Heritage Collection. This exhibition also provides the unique opportunity to present documentation by or about CINTAS Fellows from within the specific context of the archive, offering insights into the inner workings of the creative process and reinforcing their value as both unique aesthetic objects and singular tools for research and education.
The exhibition's panoramic approach takes the viewer through a journey of Cuba and its diaspora's art and culture, from the early 20th century to the present, narrated through the various types of materials found in the archives specific to the fields of the visual arts, literary arts, theater, and music.