From Pre-contact To Shatter Zone: Exploring Florida Cultural Legacies
---
From Pre-contact To Shatter Zone: Exploring Florida Cultural Legacies
---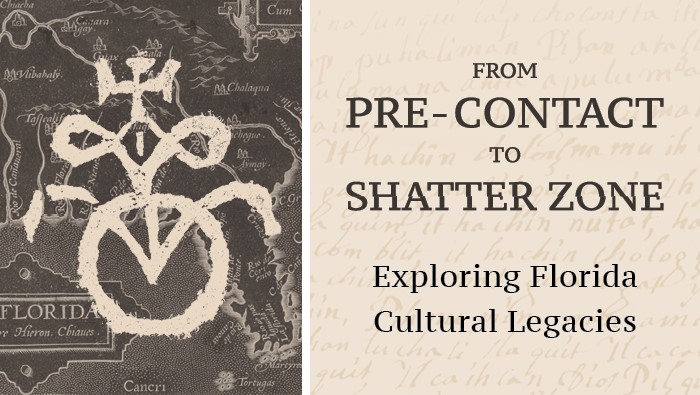 April 7 – December 16, 2022
Otto G. Richter Library, Floors 1 and 2
At the time of contact with Europeans in the 16th century, the Guale, the Timucua, and the Apalachee peoples in Florida formed part of the Southeastern Ceremonial Complex, a rich Native American exchange network with identifiable motifs and sophisticated patterns of symbolic and artistic expression. This Complex flourished in the Mississippi Valley from 900 C.E. onwards and extended north and east into vast regions of the land.
For the uninvited Spaniards stationed at the garrison of St. Augustine, which was founded in 1565, "La Florida" was a harsh frontier that did not yield returns other than holding on to a strategic location. Its failure as a profitable colonial economic enterprise notwithstanding, a vigorous missionary effort was launched in the land, with the Franciscan order at its helm. Not without great toil and setbacks, the Friars Minor established mission systems that lasted more than a century and a half and extended from the Atlantic coastline to northern Florida and central Georgia. With the assistance of native-speaking intellectuals, the friars learned Timucua and set it down to writing, making it the first recorded indigenous language in present day United States. There are 10 extant imprints in Spanish and Timucua produced during the first three decades of the 17th century. These bilingual imprints amount to a robust body of work that tells us an important story about Spanish and indigenous transcultural competence in Florida's early modern past.
Tragically, due to epidemics, colonial exploitation by the Spaniards, and the ravages of commodified slavery introduced by the English, the missionized Guale, Apalachee, and Timucua almost disappeared as a people by 1763. And yet, their legacy as they negotiated the universalist epistemology of Christianity while keeping their indigenous identity deserves to be explored, better known, and remembered.
This exhibition was curated by Viviana Díaz Balsera, professor of Spanish for the Department of Modern Languages and Literatures in the College of Arts and Sciences at the University of Miami, and Arthur Dunkelman, curator of the Jay I. Kislak Collection for Special Collections at the University of Miami Libraries.
For further reading and additional resources, please visit the research guide for this exhibition.