On Exhibition for Fall 2018
Footprints: Researching the Florida Skunk Ape in the Big Cypress Preserve
Exhibit Images
Footprints is an original short documentary created by several University of Miami School of Communication students. It follows the elusive Florida skunk ape and those who believe in its existence in the Big Cypress National Preserve, which is part of the United States National Parks System that borders the Florida Everglades. The skunk ape is commonly referred to as the Florida version of Bigfoot due to similarities in descriptions of the two and the uncertainty concerning its existence. While the skunk ape is the primary focus of this documentary, the film also touches on the acquisition of the Preserve by the Florida government, and the long-term effects, which included the loss of incomes and homes of local residents in Ochopee, Florida.
Watch the full documentary on YouTube.
About the Filmmakers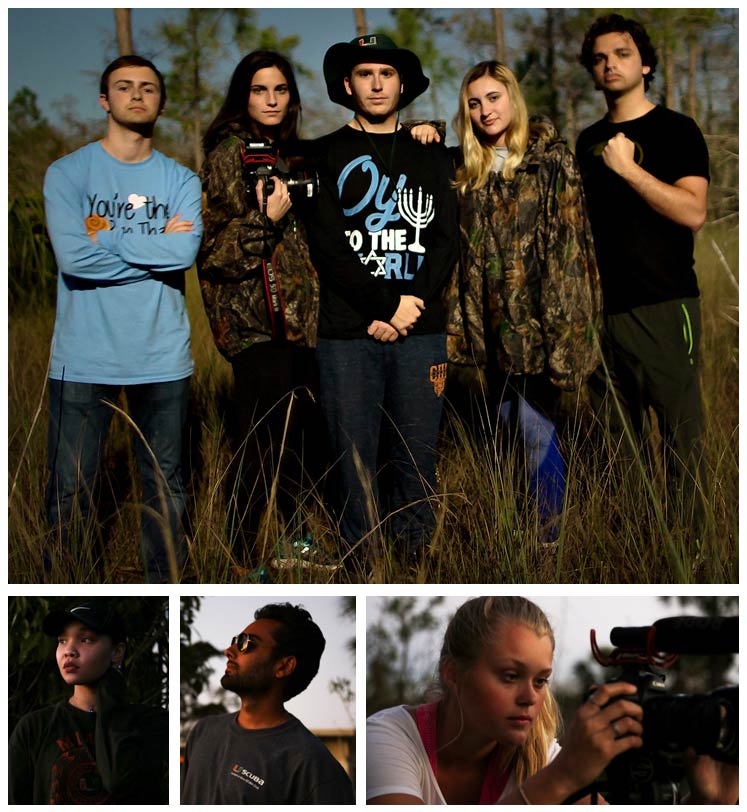 This documentary was made by students in the School of Communication taking JMM 345 (Journalism and Media Management) during the Spring of 2018 with Professor Trevor Green.
Rebekah Chung, Executive Producer
Erika Orstad, Executive Producer
Ben Ezzy, Associate Producer
Madison Brown, Production Assistant
Robyn Shapiro, Production Assistant
Sagar Sharma, Production Assistant
Andrew Blechman, Production Assistant
Cory Nigrin, Production Assistant
About Creative Studio exhibits
The Creative Studio gallery at Richter displays the work of University of Miami students who have used the services provided in the lab to create a visual story. The images selected are displayed here as well as in the lab's physical space and are changed every semester. We try to showcase a variety of different ideas from students across departments.
If you've created a media project using any of the studio's resources, please share it with us! We'd love to put it in the gallery and show off your work. Pitch your exhibit to us by filling out this online form or  email inquiries to creativestudio@miami.edu