Navigate to...
About Us

Research Services

Collections

Academic Programs

Events

Conferences

Exhibitions

Blog & Newsletter
The Roberto C. Goizueta Pavilion
---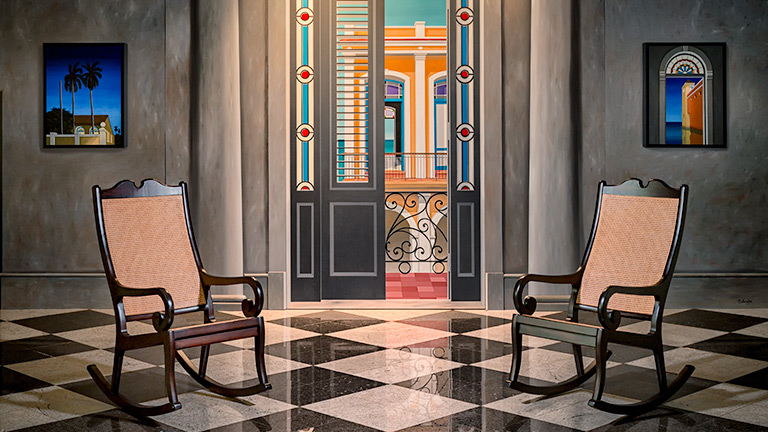 Inaugurated in 2003, the Pavilion is named in honor of the late Cuban-American business leader, Roberto C. Goizueta. The Pavilion is a 10,000-square-foot facility located on the second floor of the Otto G. Richter Library at the University of Miami's Coral Gables campus. The Reading Room is also a center for community engagement, serving as one of the principal public gathering spaces in the Otto G. Richter Library.
Watch video recordings of past lectures and presentations
Named in honor of the late philanthropist Elena Díaz-Versón Amos, the conference room includes the painting "Amanecer en la Atlántida" by Cuban artist Gustavo Acosta, generously donated by Mrs. Olga C. Goizueta. For information on the use of the Elena Díaz-Versón Amos Conference Room, click here.
The Cuban Heritage Collection has been used a filming location for various documentaries and interviews, including "El Cartel Cubano" (forthcoming), "Duende en la sombra" (2023), CBS Saturday Morning (2023), and Telemundo51 (2023).
Honoring a Legacy Roberto C. Goizueta (1931-1997)
Roberto C. Goizueta served as Chairman and Chief Executive Officer of The Coca-Cola Company for sixteen years (1981-1997), resulting in its expansion as a global household brand. A Cuban refugee, he is considered among the most respected business leaders of the twentieth century.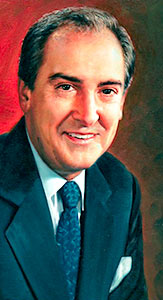 Born in 1931 in Cuba, Mr. Goizueta attended the Colegio de Belén in Havana and later Cheshire Academy in Connecticut, where he learned English. Majoring in chemical engineering, he graduated from Yale University in 1953, and one year later, he joined the technical department of The Coca-Cola Company in Havana. In the aftermath of the Cuban Revolution, Mr. Goizueta left Cuba in 1960, with his wife, Olga, and their children. Within 30 years, Mr. Goizueta was leading The Coca-Cola Company.
Roberto C. Goizueta was more than a business leader. He believed that every person who enjoys freedom and opportunity has a duty to cherish, protect, and nurture it. He strived to make America stronger, not only through his inspirational and exceptional business leadership but also through his generous philanthropic contributions.
In 1992, Mr. Goizueta established The Goizueta Foundation to provide financial assistance to educational and charitable institutions. In creating The Goizueta Foundation, he sought to acknowledge his indebtedness to this country and to continue the commitment to philanthropic endeavors that has symbolized the leadership of The Coca-Cola Company for more than a century.
The Goizueta Foundation provided the lead gift to create the Cuban Heritage Collection's permanent home, which was inaugurated in 2003, and again gave its support in 2009 with a five-year grant to fund collection development, preservation and access, digitization, and fellowship programs.
Elena Díaz-Versón Amos (1926-2000)
The daughter of Cuban journalist and author Salvador Díaz-Versón and Teresa Bana, philanthropist Elena Díaz-Versón Amos was born in Cuba in 1926 and came to the University of Miami in 1944 as an exchange student in a pre-law program. While at the University, she met John B. Amos of Enterprise, Alabama, whom she married in 1945 in Coral Gables. Ten years later, with their son John Shelby II and daughter María Teresa, the Amoses moved to Columbus, Georgia. There Mr. Amos founded the American Family Corporation, now the American Family Life Assurance Company (AFLAC).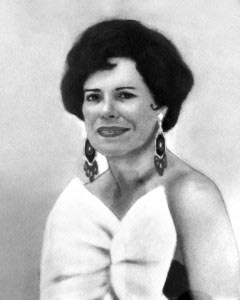 Elena Díaz-Versón Amos was chairperson and founder of The John and Elena Amos Foundation. Through this foundation and often through her own personal contributions, Mrs. Amos supported various local and national organizations, humanitarian and Cuban causes, and institutions of higher education, including the University of Miami, where her late husband established the Charlton W. Tebeau Chair in American History.
Her interests in higher education and Cuban issues united in her support of the Cuban Heritage Collection. She was the founding co-chair of the Amigos of the Cuban Heritage Collection, a group that raises funds and provides support for the collection. In 1994, when the collection was still housed in Richter Library's Special Collections, Mrs. Amos made a donation of $1 million towards the construction of a new home for the library's Cuban materials, a home that was realized by The Goizueta Foundation in the Roberto C. Goizueta Pavilion.
In March 2000, Mrs. Amos received the University of Miami's Presidential Order of Merit, an award that recognizes the notable achievements of outstanding individuals. Mrs. Amos passed away two months later on May 3. For her enduring moral and financial support for the Cuban Heritage Collection, the Roberto C. Goizueta Pavilion's conference room is named after Elena Díaz-Versón Amos.
The Fanjul Family
With a long history in the sugar industry in Cuba and the United States, the Fanjul family is based in Palm Beach County, Florida. Alfy and Pepe Fanjul and their sister Lian Fanjul de Azqueta are founding members of New Hope Charities, which provides educational and health services to low-income families in Pahokee, Florida. As individuals and through the family's companies, the Fanjul family supports various charitable and educational organizations, including the University of Miami.