Navigate to...
About Us

Research Services

Collections

Academic Programs

Events

Conferences

Exhibitions

Blog & Newsletter
Diaspora in Recent Film from the Spanish Caribbean
---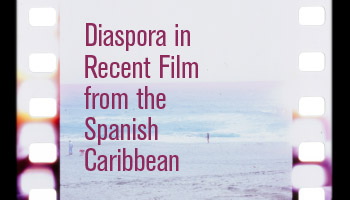 A Two-Day Virtual Symposium: March 28-29, 2023
Co-sponsored by
Cuban Heritage Collection and Emilio Bacardí Moreau Chair in Cuba and Cuban-American Studies, University of Miami
Cuban and Caribbean Studies Institute, Tulane University
Atlanta Global Studies Center, The Georgia Institute of Technology and Georgia State University
Identity is not as transparent or unproblematic as we think. Perhaps instead of thinking of identity as an already accomplished fact, which the new cultural practices then represent, we should think, instead, of identity as a "production," within, not outside, representation.
–Stuart Hall
In his influential 1996 essay "Cultural Identity and Diaspora," Jamaican-born theorist Stuart Hall described the power of "a new cinema of the Caribbean" to reflect, refract, and enact new conceptions of identity among citizens of the region and their diasporas around the world. In the years since, migration has solidified its centrality as "a constant motif in Caribbean history," to quote Hall's words elsewhere. This has reinforced the need for filmmakers to continue engaging diaspora, migration, and exile as not only cornerstones of the region's past and present, but also sites from which to convene new publics, preserve cultural memory, and imagine alternate futures.
Bringing together film scholars, curators, and filmmakers, this symposium applies Hall's questions about the relationship between cinema and representation to recent cinematic production from the Spanish Caribbean and its global diasporas. How, we ask, are contemporary filmmakers from Cuba, the Dominican Republic, and Puerto Rico—whether on their respective islands or residing abroad—contending with diaspora as subject of their work, as site of production, and/or as intended audience? What platforms are they leveraging, or creating, to do so? In asking these questions, we follow Hall's call to understand film "not as a second-order mirror held up to reflect what already exists, but as that form of representation which is able to constitute us as new kinds of subjects."
NOTE: This symposium will be presented in both English and Spanish.

Symposium Schedule (EST)
DAY ONE – TUESDAY, MARCH 28, 2023
10:00 a.m.

Welcome Remarks

Charles Eckman, Ph.D., Dean and University Librarian
Amanda Moreno, MSLIS/MA, Chair, Esperanza Bravo de Varona Chair of the Cuban Heritage Collection
Michael Bustamante, Ph.D., Emilio Bacardí Moreau Chair in Cuban and Cuban-American Studies
Juan Carlos Rodríguez, Ph.D., Associate Professor of Spanish and Co-Director of the Atlanta Global Studies Center, The Georgia Institute of Technology
Carolina Caballero, Ph.D., Zemurray-Stone Senior Professor of the Practice, Associate Director, Institute of Cuban and Caribbean Studies, Tulane University

10:30 a.m.

Diasporic Representations: Past, Present, and Future | Representaciones de la diáspora: Pasado, presente y futuro

2:00 p.m.

Engaging Diaspora Audiences: New Platforms | Participación de audiencias diaspóricas: Nuevas plataformas
DAY TWO – WEDNESDAY, MARCH 29, 2023
2:00 p.m.

Diasporic Filmmaking Today: A Conversation with Filmmakers of the Region

 |

Cine Diaspórico Hoy

:

Una conversación con cineastas de la región

(Presented in Spanish)

Pavel Giroud, El caso Padilla (2022)
Victoria Linares, Lo que se hereda (2022)
Pedro A. Rivera Muñoz, Desalambrado (2016)
Dami Sainz Edwards, Los cimarrones (2021)
Co-Moderators:

Juan Carlos Rodríguez, Ph.D., Associate Professor of Spanish and Co-Director of the Atlanta Global Studies Center, The Georgia Institute of Technology
Alejandro Kelly-Hopfenblatt, Ph.D., Zemurray-Stone Post-Doctoral Fellow, Stone Center for Latin American Studies, Tulane University