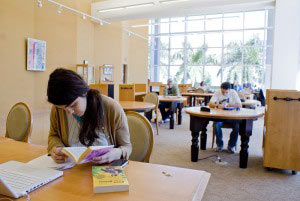 Researchers should refer to the Collections Overview and Search Tools sections of our website for information about our research resources and how to find them. For recommendations on maximizing your time with us and information for out-of-town visitors, please visit our Research Tips page.
All researchers must create a Research Account in our Aeon system. You can pre-register before your visit or sign up when you arrive. Once registered, you will be able to access your Research Account online to manage your personal information and create and track requests. For more information, visit the Aeon FAQ page.
Due to their value, condition, and uniqueness, Cuban Heritage Collection materials do not circulate and must be used in the Reading Room. Collection materials require special handling and security precautions to ensure their long‐term preservation. We appreciate your cooperation in observing the regulations listed below. These guidelines apply to anyone studying in the Goizueta Pavilion Reading Room, even if they are not using Cuban Heritage Collection materials.
General Guidelines
A valid photo I.D. (Cane Card, driver's license, or passport) and Research Account registration in Aeon are required.
The Reading Room is monitored by security cameras.
Bags and all other personal belongings must be stored in a locker. This includes pens, highlighters, notebooks, notepads, binders, laptop cases, bags of any size, coats or jackets, umbrellas, or wallets.
Only pencils, loose sheets of paper, digital cameras, and either a laptop or a tablet are allowed in the Reading Room. Cell phones are permitted only for use of the phone's camera.
Food and drink are not allowed. Water bottles may be stored in lockers.
In order to provide a quiet study area, researchers may not accept or make cell phone calls while in the Reading Room.
One researcher may sit at each table at a time and must face the Reading Room desk. Group study is not permitted.
Printing services are not available in the Reading Room.
Notebooks, bags, and similar personal items may be inspected before visitors leave.
Using Materials
Book cradles or other supports may be required when handling bound materials. Manuscript and archival materials must lie flat on the tables.
Do not take notes or rest objects on top of materials. Special weights are available at the Reading Room desk.
Acid-free markers are available at the reference desk to help keep track of one's place within a bound item, folder, or box.
When requesting bound materials, researchers will be allowed to view three volumes at a time.
When requesting manuscript collections, researchers will be allowed to view one box at a time.
When handling materials housed in boxes or cartons, it is important to pull only one folder at a time from the box. Please keep items in their original order within each folder and folders in order within each box.
If a patron requests more than the number of items allowed to be viewed at one time, additional materials will be held at the Reading Room desk.
Digital photography is permitted only for research purposes, and the resulting images cannot be transferred to others, further reproduced, published, or displayed without the express written permission of the rights holder. Flash or external lights are not allowed.
Handheld and other scanners that come into direct contact with materials are not permitted in the Reading Room.
Depending on the size and condition of materials, pohotocopies may be ordered for a fee from the Reading Room desk. Please see our Photocopies & Digital Reproductions page for more information.
All material must be returned to the Reading Room desk when the researcher leaves the Pavilion. Material to be used in the immediate future may be put on hold.