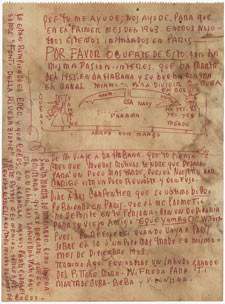 Archival and manuscript materials held by the Cuban Heritage Collection include collections of personal papers and organizational records and other primary sources that include historical and literary manuscripts, letters, photographs, maps, posters, sound and video recordings, and ephemera. These collection document the Cuban experience on the island and in the diaspora, from colonial times to the present and support research in a wide array of subjects and time periods. While CHC collects these materials broadly, existing strengths include photographs from the late 19th-century to the 1960s, colonial manuscripts, papers of Cuban exile organizations and leaders, literary manuscripts of exile writers, and theater.
About Our Finding Aids
Researchers should refer to the finding aids and inventories database to explore archival and manuscript holdings, which allows users to browse or search across finding aids. Finding aids vary in style and depth of detail, but they all serve to describe and facilitate access to archival and manuscript collections.
The most basic finding aids include brief descriptions of the creator, size, and scope and content of the collection, while finding aids for more fully processed collections give greater detail on the historical context and intellectual organization and physical arrangement of the collection. Most finding aids also include information about access restrictions and property rights.